Extra large inspection area and plenty of power!

The X-SCOPE 3000 X-Ray Inspection System is the latest addition to the X-Scope platform. Based on the very popular X-SCOPE 2000, it adds a larger working area and more power and can use the same 130kV X-Ray source found in our flagship model, X-SPECTION 6000. Download Product PDF
Standard features of the X-Scope 3000 X-Ray Inspection System
Fully integrated, up to 130kV high power closed X-ray tube

Micro-focus
Spot size down to 5µ

4″x3″ high resolution CMOS digital flat panel image detector
60° camera tilt for oblique angle viewing
25.4" x 19.5" Inspection area
Color mapping camera with zoom window provides easy location and identification of faults
Z axis movement of the x-ray tube and detector
Computer controlled kV and mA settings
Computer controlled variable speed X-Y stage
Simple point and click, intuitive GUI provides access to create advanced inspection routines
All software tools standard including (but not limited to)

BGA Void detection and automatic calculations
Easy macro recording for intuitive step and repeat programming
Various measuring tools for radius, area, perimeter, etc

Industrial PC with Windows 7 PRO, 24″ LCD flat panel display
Applications

Multilayer PCBs
BGA, QFN, wire bond, etc
Semiconductor
Over molded electrical connectors
Encapsulated components
Aluminum die casting

Molded plastic
Automotive assemblies
Medical devices
Pharmaceuticals
Ceramics
Agriculture
X-SCOPE 3000 User Interface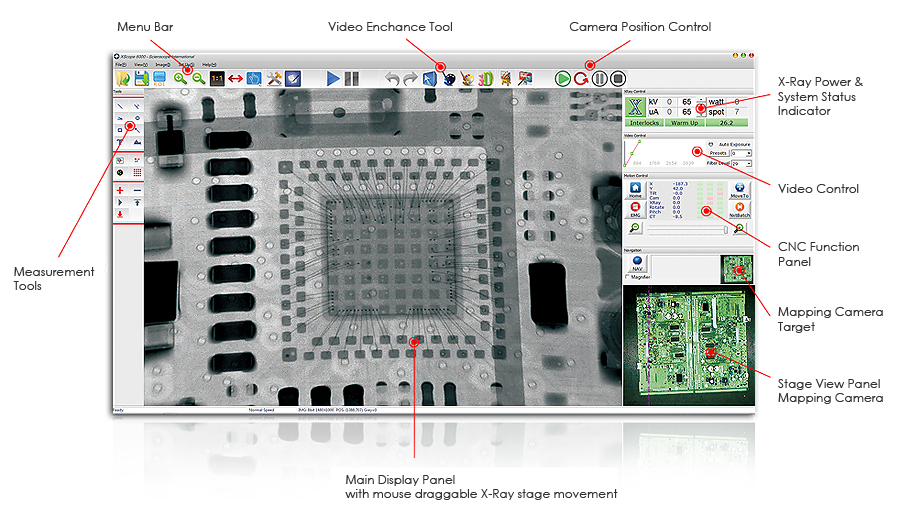 X-SCOPE 3000 Specifications
| | |
| --- | --- |
| Tube Style | Micro-focus, integrated (Closed) |
| Tube Voltage | 130kV |
| Tube Current | 0.32mA |
| Focal Spot Size | 5 Micron |
| Tube Cooling | Forced Air |
| Geometric Magnification | 250X |
| System Magnification | 1000X |
Digital Flat Panel Detector
| | |
| --- | --- |
| Detector size | 4"x3" or 5"x5" high resolution, or 4"x3" ultra resolution |
| Grayscale | 14-bit (16,384 shades of grayscale) |
| Speed | 40 FPS |
| Resolution | 49.5 µm or 99 µm |
| | |
| --- | --- |
| Dimension | 1358mm (L) x 1358mm (W) x 1677mm (H) (2057 w/light tower) / 55.5″(L) x 53.5″ (W) x 66″(H) (81″ w/light tower) |
| Sample Table Size | 645mm x 496mm / 25.4″ x 19.5″ |
| Inspection area | 645mm x 496mm / 25.4″ x 19.5″ |
| Sample Table Tilt | + 60° |
| Weight | 1300 kg / 2866 lbs. Steel – Lead – welded construction |
| | |
| --- | --- |
| Automatic switching power supply | AC 110 – 230 VAC 50/60 Hz |
Computer and operating system
| | |
| --- | --- |
| Operating System | Microsoft Windows 7 PRO (64-bit) |
| | |
| --- | --- |
|  Warranty | One year, parts and labor |
Live Online Demo of your application: Scienscope can do sample demos over the internet; you can see the sample being x-rayed real-time while we explain what you are seeing in the images and the technique factors (kV-mA-magnification) that are being used. We can also demonstrate all of the X-Scope 3000 physical and software features. During the online demo we can turn the control of the system to you; you can control all of the functions of the X-Scope 3000 from your desktop. This works well for companies that have decision makers in numerous locations because there is no limit to the amount of people that can log on to the online meeting.
Installation: Scienscope will provide installation and calibration service at the customers location Installation includes assistance in registering your new x-ray system with local and state agencies where applicable. One (1) on-site radiation survey at the time of installation with supporting documents.
Training: Two days (16 hours maximum) of training will be provided by Scienscope, training will include:
Basic Radiation Safety.
X-Ray system control functions.
X-Ray image processing software training.
Basic X-ray signature analysis training.
Hands-on sample analysis using your typical samples.
Training certificates for all attendees.