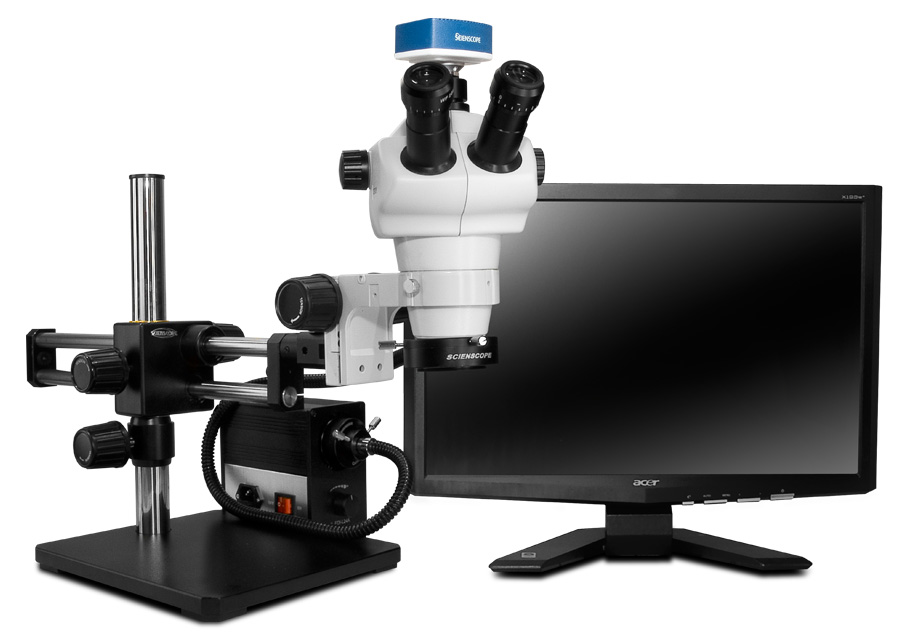 The NZ Stereo Zoom Trinocular Microscope is designed for all industrial, electronic, and medical manufacturing applications. It boasts a new, rugged, air and moisture tight housing, and unbreakable eyepiece ports. It is perfect for the rigors of the assembly line or any harsh manufacturing environment. This also make s the NZ virtually maintenance free. With the NZ series you will be able to view or inspect your work with unequaled clarity and know that the durability of the microscope will never be compromised. With a wide variety of Eyepieces, Focus Mount, Stand, Illumination, and auxiliary lens accessories, you will be able to find the perfect system to meet your needs.
System Features
Performance Optics
Precision polished optics provide a clear and defined image for accurate inspection or manual assembly, micro-soldering, or dissection.
Maintenance Free
Air-tight and anti-mold construction. Reduced need to perform regular maintenance saves money in overall costs and time.
True-Trinocular
True-Trinocular provides simultaneous images through eyepieces and camera port. Ideal for supervisor observation and training.
NZ Series Data Sheet
NZ Body Specifications
| | |
| --- | --- |
| Microscope Body Zoom Range: | 0.8X – 5X |
| Zoom Ratio: | 1:6.3 |
| Magnification w/ 10X eyepieces | 8X to 50X |
| Field of View | 27.5mm – 4.4mm |
| Working Distance | 115mm |
| Eyepieces Inclination: | 45° |
| Dioptric Adjustment: | ±5 Dual Independent |
| Interpupillary Adjustment: | 52mm – 75mm |
| Microscope Ring Mount Diameter: | 76mm |
| Available Eyepieces: | 10X, 15X and 20X |
| Available Objective Lens: | 0.5X and 2X |
| Available Video Coupler: | 0.4X |
NZ TRINOCULAR SPECIFICATIONS
Objective Lens
Working Distance (mm)
Video Coupler
0.4X
Mag.
FOV (mm)
0.5X
211mm
11.2X – 69.9X/td>
49.9 – 7.99
Default (1X)
115mm
22.4X – 139.7X
24.9 – 3.9
2X
43.5mm
44.7X – 279.4X
12 – 2

Packaged Specifications: Below SCIENSCOPE Packages comes with the highlighted specifications. Mag. = Magnification, FOV = Field of View, WD = Working Distance
Complete System Packages
Packages include a USB or WSXGA camera, choice of stand and lighting. USB cameras are great for capturing images with a computer and saving the data to networks. While WSXGA cameras can capture images to directly to an SD card while viewing a live image on an LCD monitor. You can also add measurement, annotation, and image comparison software to USB cameras.
| Photo | MFG # | Description |
| --- | --- | --- |
| | NZ-PK10-AN | NZ Stereo Zoom TRUE Trinocular, 10x eyepieces, eye guards, dual arm boom stand with 76mm e-arm, 0.5x auxiliary lens, 0.4x video coupler, LED fiber optic illuminator, Fiber optic annular ring light guide. Features NEW 1080p HDMI/USB camera (Includes SD card, USB cable and mouse) with 23″ HD LCD monitor and capture software. |
| | NZ-PK10-R2E | NZ Stereo Zoom TRUE Trinocular, 10x eyepieces, eye guards, dual arm boom stand with 76mm e-arm, 0.5x auxiliary lens, 0.4x video coupler, 8 point LED ring light. (IL-LED-R2E) Features NEW 1080p HDMI/USB camera (Includes SD card, USB cable and mouse) with 23″ HD LCD monitor and capture software. |
| | NZ-PK10-R3 | NZ Stereo Zoom TRUE Trinocular, 10x eyepieces, eye guards, dual arm boom stand with 76mm e-arm, 0.5x auxiliary lens, 0.4x video coupler, NEW high intensity LED ring light with polarizer (IL-LED-R3). Features NEW 1080p HDMI/USB camera (Includes SD card, USB cable and mouse) with 23″ HD LCD monitor and capture software. |
| | NZ-PK10-E1 | NZ Stereo Zoom TRUE Trinocular, 10x eyepieces, eye guards, dual arm boom stand with 76mm e-arm, 0.5x auxiliary lens, 0.4x video coupler, compact LED ring light. (IL-LED-E1) Features NEW 1080p HDMI/USB camera (Includes SD card, USB cable and mouse) with 23″ HD LCD monitor and capture software. |