MPI Chooses Scienscope for it's Exceptional Value !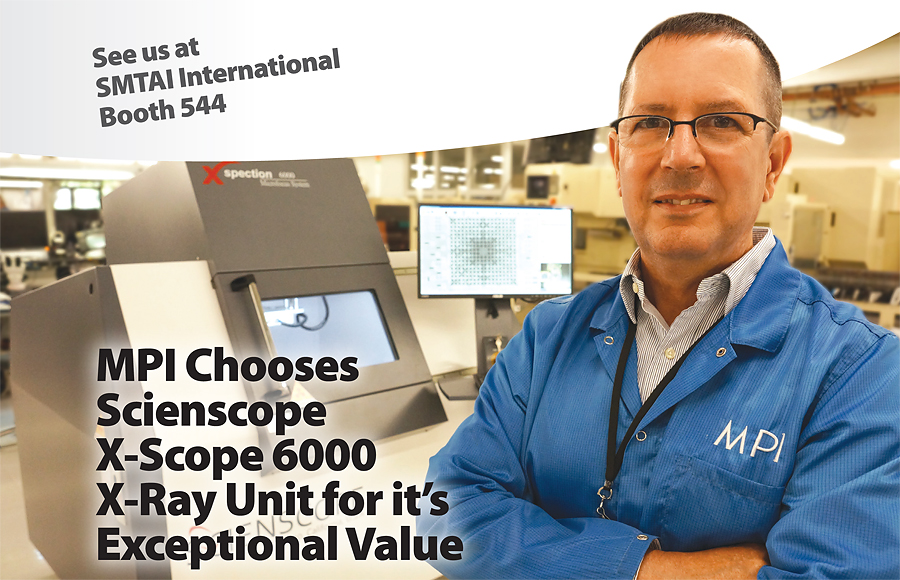 The Scienscope X-Scope 6000 is a great value for a technologically advanced X-ray inspection system. We recently replaced an older competitor system and find that the X-Scope 6000 gives us an edge in getting challenging solder profiles developed for high mass boards with many hidden solder terminations. The quick process feedback, sharply focused images and easy-to-use software has made this machine a big hit with the engineering team! – Dane Wentworth, Senior Vice President, MPI
The X-Scope 6000 is a digital, fully programmable computer controlled X-ray inspection system that allows operators to program inspection and measurement routines with point-and-click ease. It features a high power, 130 kV micro-focus, sealed x-ray tube, 70° camera tilt for oblique extreme angle inspection and 1,000X system magnifiction. Scienscope also offers various 100 percent automated inline platforms such as the X-Scope 8000 to meet the needs of many different industries.