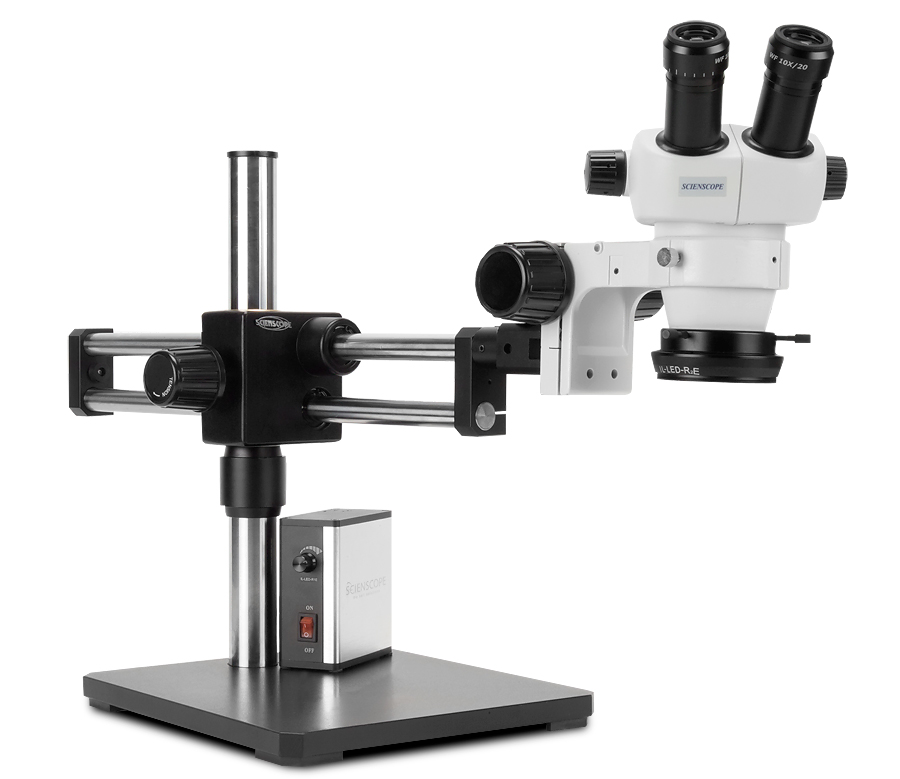 The new ELZ Mini Stereo Zoom Binocular Microscope from Scienscope offers high performance optics and features without the high performance price tag to match. The optical system is suitable for all industrial, electronics, and educational inspection applications. The internal mechanics are based on our dependable NZ series. The sealed microscope body is perfect for use in harsh environments as well as clean rooms.
ELZ Microscope Body Features
Upgradable System
Available upgrades on eyepieces, objective lenses, light sources and many other microscope components allows flexible adaptation to your changing workflow.
Maintenance-Free
Anti-mold and air-tight sealed body design eliminates the need for regular maintenance and adds additional reliability in most working environments.
High-quality Optics
Based on the NZ series microscope construction, the ELZ outperforms many competitors in the compact category.
ELZ Data Sheet
Microscope Body Specifications

| | |
| --- | --- |
| Microscope Body Zoom Range | 0.7X – 3X |
| Zoom Ratio | 1:4.3 |
| Magnification w/ 10X eyepieces | 7X to 30X |
| Field of View | 31.4mm – 7.3mm |
| Working Distance | 100mm |
| Eyepieces Inclination | 60° |
| Dioptric Adjustment | ±5 Dual Independent |
| Interpupillary Adjustment | 46mm – 76mm |
| Microscope Ring Mount Diameter | 76mm |
| Available Eyepieces | 10X, 15X and 20X |
| Available Objective Lens | 0.5X and 2X |
ELZ OPTICAL SPECIFICATIONS
Obiective Lens
Working
Distance (mm)
Eyepieces
10X
15X
20X
Mag.
FOV (mm)
Mag.
FOV (mm)
Mag.
FOV (mm)
0.5X
177mm
3.5X-15X
66.9-15
5.3X-22.5X
4.6-11
7X-30X
36-8.3
DEFAULT(1X)
100mm
7X-30X
31.4-7.3
10.5X-45X
22.9-5.3
14X-60X
17.9-4.1
2X
26mm
14X-60X
16-3.7
21X-90X
11.4-8
28X-120X
9-6.0

Packaged Specifications: Below SCIENSCOPE Packages comes with the highlighted specifications. Mag. = Magnification, FOV = Field of View, WD = Working Distance
To made things easier, we have provided a wide range of packages that are suitable for your applications. Please choose a package listed below for your convenience. A full range of eyepieces and objective lenses are also available, please refer to the specification below for more additional option.
| Photo | MFG # | Description |
| --- | --- | --- |
| | ELZ-PK1-AN | ELZ Stereo Zoom Binocular, 10x eyepieces, ErgoPost Stand with 76mm focus rack, LED fiber optic illuminator, Fiber optic annular ring light guide. |
| | ELZ-PK1-R2E | ELZ Stereo Zoom Binocular, 10x Eyepieces, ErgoPost stand with 76mm focus rack, ring light adapter, 8 point LED ring light. (IL-LED-R2E) |
| | ELZ-PK1-R3 | ELZ Stereo Zoom Binocular, 10x Eyepieces, ErgoPost stand with 76mm focus rack, ring light adapter, NEW high intensity LED ring light with polarizer (IL-LED-R3). |
| | ELZ-PK1-E1 | ELZ Stereo Zoom Binocular, 10x Eyepieces, ErgoPost stand with 76mm focus rack, ring light adapter, compact LED ring light. (IL-LED-E1) |
| | ELZ-PK2-AN | ELZ Stereo Zoom Binocular, 10x eyepieces, ErgoTrack Stand with 76mm focus rack, LED fiber optic illuminator, Fiber optic annular ring light guide. |
| | ELZ-PK2-R2E | ELZ Stereo Zoom Binocular, 10x Eyepieces, ErgoTrack stand with 76mm focus rack, ring light adapter, 8 point LED ring light. (IL-LED-R2E) |
| | ELZ-PK2-R3 | ELZ Stereo Zoom Binocular, 10x Eyepieces, ErgoTrack stand with 76mm focus rack, ring light adapter, NEW high intensity LED ring light with polarizer (IL-LED-R3). |
| | ELZ-PK2-E1 | ELZ Stereo Zoom Binocular, 10x Eyepieces, ErgoTrack stand with 76mm focus rack, ring light adapter, compact LED ring light. (IL-LED-E1) |
| | ELZ-PK3-AN | ELZ Stereo Zoom Binocular, 10x Eyepieces, Articulating arm with 76mm focus rack, 0.5x auxiliary lens, LED fiber optic illuminator, Fiber optic annular ring light guide. |
| | ELZ-PK3-R2E | ELZ Stereo Zoom Binocular, 10x Eyepieces, Articulating arm with 76mm focus rack, 0.5x auxiliary lens, ring light adapter, 8 point LED ring light. (IL-LED-R2E) |
| | ELZ-PK3-R3 | ELZ Stereo Zoom Binocular, 10x Eyepieces, Articulating arm with 76mm focus rack, 0.5x auxiliary lens, and NEW high intensity LED ring light with polarizer (IL-LED-R3). |
| | ELZ-PK3-E1 | ELZ Stereo Zoom Binocular, 10x Eyepieces, Articulating arm with 76mm focus rack, 0.5x auxiliary lens, and compact LED ring light. (IL-LED-E1) |
| | ELZ-PK5-AN | ELZ Stereo Zoom Binocular, 10x eyepieces, eye guards, gliding arm boom stand with 76mm e-arm, 0.5x auxiliary lens, LED fiber optic illuminator, Fiber optic annular ring light guide. |
| | ELZ-PK5D-AN | ELZ Stereo Zoom Binocular, 10x eyepieces, eye guards, dual arm boom stand with 76mm e-arm, 0.5x auxiliary lens, LED fiber optic illuminator, Fiber optic annular ring light guide. |
| | ELZ-PK5S-AN | ELZ Stereo Zoom Binocular, 10x eyepieces, eye guards, single arm boom stand with 76mm e-arm, 0.5x auxiliary lens, LED fiber optic illuminator, Fiber optic annular ring light guide. |
| | ELZ-PK5-R2E | ELZ Stereo Zoom Binocular, 10x eyepieces, eye guards, gliding arm boom stand with 76mm e-arm, 0.5x auxiliary lens, ring adapter, 8 point LED ring light. (IL-LED-R2E) |
| | ELZ-PK5D-R2E | ELZ Stereo Zoom Binocular, 10x eyepieces, eye guards, dual arm boom stand with 76mm e-arm, 0.5x auxiliary lens, ring adapter, 8 point LED ring light. (IL-LED-R2E) |
| | ELZ-PK5S-R2E | ELZ Stereo Zoom Binocular, 10x eyepieces, eye guards, single arm boom stand with 76mm e-arm, 0.5x auxiliary lens, ring adapter, 8 point LED ring light. (IL-LED-R2E) |
| | ELZ-PK5-R3 | ELZ Stereo Zoom Binocular, 10x eyepieces, eye guards, gliding arm boom stand with 76mm e-arm, 0.5x auxiliary lens, ring adapter, NEW high intensity LED ring light with polarizer (IL-LED-R3). |
| | ELZ-PK5D-R3 | ELZ Stereo Zoom Binocular, 10x eyepieces, eye guards, dual arm boom stand with 76mm e-arm, 0.5x auxiliary lens, ring adapter, NEW high intensity LED ring light with polarizer (IL-LED-R3). |
| | ELZ-PK5S-R3 | ELZ Stereo Zoom Binocular, 10x eyepieces, eye guards, single arm boom stand with 76mm e-arm, 0.5x auxiliary lens, ring adapter, NEW high intensity LED ring light with polarizer (IL-LED-R3). |
| | ELZ-PK5-E1 | ELZ Stereo Zoom Binocular, 10x eyepieces, eye guards, gliding arm boom stand with 76mm e-arm, 0.5x auxiliary lens, ring adapter, compact LED ring light. (IL-LED-E1) |
| | ELZ-PK5D-E1 | ELZ Stereo Zoom Binocular, 10x eyepieces, eye guards, dual arm boom stand with 76mm e-arm, 0.5x auxiliary lens, ring adapter, compact LED ring light. (IL-LED-E1) |
| | ELZ-PK5S-E1 | ELZ Stereo Zoom Binocular, 10x eyepieces, eye guards, single arm boom stand with 76mm e-arm, 0.5x auxiliary lens, ring adapter, compact LED ring light. (IL-LED-E1) |